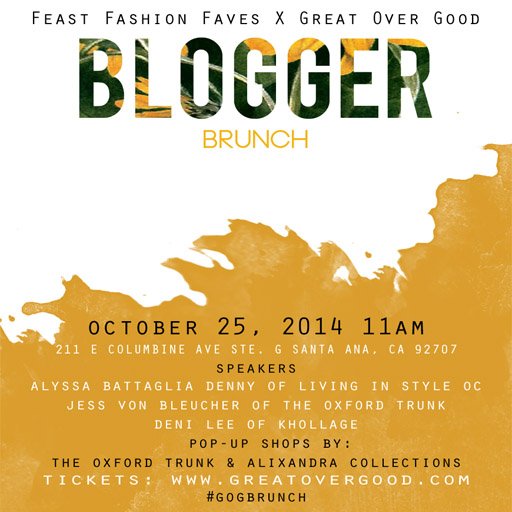 Hello Bloggers!
We're super excited to be working with Amanda Nguyen of Feast Fashion Faves to bring you this fall's Blogger Brunch. This brunch is full of all kinds of great stuff! We've got speakers, gift bags and pop-up shops. Yes, we said a pop-up shops! Exciting, right?! Our great friends over at The Oxford Trunk and Alixandra Collection will be setting up some of this fall's hottest trends in apparel and accessories. Make sure you don't leave your wallets at home – you just might find something you can't live without!
We've also put together a dream team of speakers to bring you some insight on the blogging world. We'll cover topics like how to drive traffic to your site, how to work with brands, and how to set yourself apart from other bloggers. Who are these amazing people that we speak of? Check them out! Jessica von Bluecher, Alyssa Battaglia Denny, Deni Lee
Want more? We've got some awesome VIP tickets for bloggers who are looking to take their blogger brunch experience to the next level. The VIP ticket awards you early entry into the brunch (10:00am), designated time to chat one-on-one with the speakers, and a photo-op. Plus, your gift bag will be loaded with extra goodies!
This is going to be an awesome event, and we're looking forward to seeing each and every one of you!